Presenter:

George E. Cressman,
Founder & President
World Class Pricing

George Cressman is founder and president of World Class Pricing, a consultancy specializing in helping clients build world class pricing managers. George has over 28 years of experience in the Chemicals industry, having worked in positions of pricing, marketing and business management, finance, research and manufacturing. George has consulted for the past 11 years with the Strategic Pricing Group and the Monitor Group. He has consulted with clients in Europe, South America and Asia in areas of business and marketing strategy, planning, pricing strategy, competitive strategy and marketing research.

He has held Business, Sales, and Marketing Management positions at DuPont, Monsanto, and Union Carbide. Currently, Dr. Cressman is a member of the Advisory Board for the Institute for the Study of Business Markets, has served as a Trustee for the Marketing Sciences Institute, and is a Visiting Scholar at the University of Virginia. Dr. Cressman is an Adjunct Faculty Professor at the University of Delaware and Drexel University. Dr. Cressman holds an undergraduate degree in chemical engineering, an M.B.A., and his doctoral work is in marketing.
Available for $150

PROBLEM: As a sales manager, you have seen first-hand the difficulty in bridging the gap between the goals of your pricing and marketing departments and the goals of your sales team.
Given the stark differences in perception, motivation and execution in these critical business functions, how do you satisfy the profit growth objectives of your organization's pricing and marketing teams while simultaneously satisfying the revenue-based commission mindset of your sales department?
SOLUTION: This course is designed to teach you - the sales manager:
How to develop the right incentives, motivations and benefits structures to motivate sales and bridge the gap between the goals of your sales, marketing and pricing teams.
How to establish the infrastructure and tools needed to create a consistent approach to selling, marketing and pricing throughout your organization.
How to empower your sales team to take control of negotiations and stop concessions and discounts.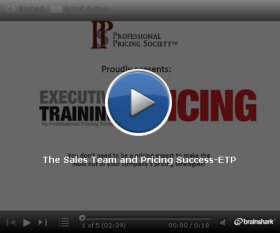 Part one explores the critical tools that sales professionals must have at their disposal:
The Four Essential Tools Marketing Must Supply the Sales Team:

Appropriate Customer Targets
Offering-Price Menus
Negotiation Steps
Price Structure
Part two discusses how to enable your team to take control of sales negotiations:
• The Four Critical Roles for the Sales Team:
Discover customer needs from a value perspective and customer buying behaviors
Structure an appropriate offering with customer choices
Communicate value, and
Negotiate to eliminate price concessions.