To drive profits, pricers need to enroll other functions in the company in addition to providing price expertise. The pricing team has to see trends through finance, engage strategy through marketing, align roadmaps through product management, build rewards through human resources, and implement prices through sales – and each group demands different methods of communication. Pricers need to speak the language of Finance by focusing on the data between revenue and profitability with the waterfall between list price and net customer price.
With Marketing, we must ask how customers distinguish value, integrate market strategies, and use segmentation to focus on solutions for a variety of customers. Product Management discussions involve pricing strategy over the product lifecycle. Since Human Resources manages compensation and development, we need to adjust rewards in favor of price performance as an effective profit lever.
And speaking with Sales, we have to focus on teamwork by helping to win deals and drive pricing changes. The pricing team's partnership with these other functions will drive profit performance.
Attendees will learn:

The different priorities, approaches, and languages within the organization

How to drive price improvement by engaging each function in their own language

How to help company leaders hear the language of pricing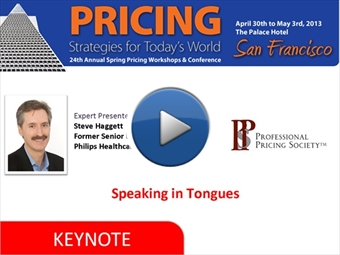 KEYNOTE Session

Speaking in Tongues
Steve Haggett, former Senior Director of Pricing for Philips Healthcare
Steve Haggett is former Senior Director of Pricing for Philips Healthcare, where he led pricing strategy, transaction tactics, and profit improvement. His work focuses on implementing value-based pricing tools, improving price performance and visibility, and designing price guidance. He is formerly Director at Holden Advisors, a pricing expert consulting and training firm, where he worked with a number of healthcare and high technology clients to identify profit growth opportunities. Steve is a frequent guest lecturer on pricing at the MIT Sloan MBA and BC Carroll MBA programs.
He brings over 25 years of marketing and pricing leadership experience, with a background in sales, marketing, and new product launch. Steve has experience as an international product manager with profit and loss responsibility in the energy industry, as an account manager for global Fortune 100 accounts, as the chief executive of a healthcare start-up, as a financial manager in the defense sector, and as a commercial lobsterman.
He holds an MBA from Harvard Business School and a BA in Art from Williams College.