How do pricing managers and their companies navigate the journey to achieve world class pricing in a complex global environment? It is a large mountain to scale that Paul Hunt will guide by sharing key insights from his new book on World Class Pricing. Specifically, he will share an exciting vision of how companies have successfully achieved world class pricing and the benefits of doing so. He will draw upon examples from B2B and B2C and across a myriad of industries. This is a dynamic and quick paced session that is sure to get you thinking in new and fresh ways about "where you are"….."where you want to get to"….and "how you are going to get there."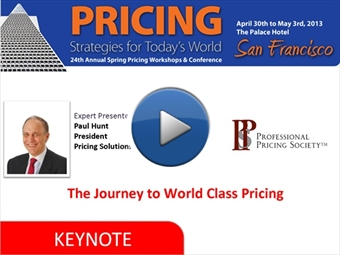 Attendees will learn:

How to achieve world class in a complex global environment

What the journey looks like and what roadblocks to expect at each stage of the journey

Leadership characteristics needed to achieve world class

The dynamic between the art and science of pricing, and how they are both critical elements of the journey

The payoffs and pitfalls to expect along the way

How to keep the gains made and why some companies slip backwards

Examples of B2B and B2C world class pricing companies



KEYNOTE Session

The Journey to World Class Pricing
Paul Hunt, President, Pricing Solutions Ltd.
Paul Hunt has specialized in pricing for more than 20 years. During that time, he has had the pleasure of working with leading companies on a global basis. As a pricing strategist, Paul has developed a vast array of proprietary methodologies that go straight to the heart of the problem. He has helped clients with such pricing issues as: bundling, competitive pricing, customer categorization, new-product pricing, perceived value, price complexity vs. simplification, pricing policy, price structure, price wars, price/volume relationship, and value-added pricing.
Paul has a particular interest in helping companies implement the cultural changes necessary for them to become more effective value-based pricers. In this capacity, he has helped companies make significant changes that have led to substantial bottom-line improvements. Paul also does a great deal of writing and lecturing on pricing strategy, including in-house trainings, industry conferences, and MBA programs.
Paul has written articles for leading publications and associations such as Marketing Magazine, American Marketing Association, Marketing Research Industry Association and the Professional Pricing Society.